GENERAL INFORMATION
The high temperature stabilizing oven provides operating temperatures of crystals from room temperature up to 200ºC.
The oven has an excellent thermal isolation.Even when the temperature inside the oven reaches 200oC oven outer shell keeps an ambient temperature.
The temperature controller for oven is a precision instrument that implements Pulse Width Modulation (PWM) control technology to provide accurate temperature control of resistive heating elements.
Our device works according to neither the typical proportional nor proportional-integral laws. We developed our original algorithm (our know-how). Due to this innovative algorithm we are able to provide a very small over regulation that does not exceed 0.2oC at a 200oC target.
Other controllers claim they can be configured to work with existing ovens that are currently available on the market . To do this, during heating and cooling, the controller tries to calculate the controller settings to the best of its ability. Experience shows that the setup is very poor. As a result, this is an unnecessary complexity. At the same time, this additional unit inside the controller increases the cost of the design, while worsening performance. Especially if you need really high accuracy (tenths of a degree)
In our devices, the controller is tuned to our specific type of oven designed and produced by us so you can be assured that oven and controller work together in harmony.
CHARACTERISTICS
Temperature Range  :40oC – 200oC
Temperature accuracy setting : 0.1o C
Temperature stability: +/- 0.2oC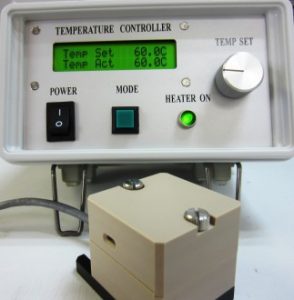 Thanks to our Cool Touch technology and innovative algorithm we are able to offer these
ADVANTAGES
No heating of external equipment

Safe in exploitation: no danger of burning yourself

Precise temperature control which equates to a very small degree of over regulation

Oven and controller are designed to work together seamlessly
Now you can order this device directly from us:  contact us